School Board Election Changes: Filing will begin on December 7, 2021, at 7:30 AM and will continues during the district's regular business hours, which are Monday through Friday from 7:30 AM to 3:30 PM. The filing dates and times are December 7th – 21th 7:30 AM – 3:30 PM., December 22th 7:30 AM -12:00 PM, December 27th 10:00 AM – 2:00 PM and December 28th 10:00 AM to 5:00 PM. Filing will not occur on days that the school district's offices are closed due to inclement weather. Filing will also not occur on the following holidays when the school district's offices are closed: December 23rd & 24th. The last day to file is December 28, 2021.

Due to a shortage of bus drivers, tomorrow's junior high basketball game at Drexel has been moved back to 6pm. The bus will leave the high school between 4:15 and 4:30pm as soon as we can get a bus back from their route. Sorry for an inconvenience this causes. Thank you for your patience.

Cast, get ready for a sold-out dinner theater performance! Please bring your dessert to the auditorium at 6:15 tomorrow night. Then, get all your costumes and props ready and head to the library, which is the green room. Thanks for all your hard work! On with the show.

Currently the play is in "sold out" status. So that means I have no more tickets available currently. I already have a waiting list started if any tickets open up for the performance. Thanks!!

Rehearsal this Tuesday November 7th has been moved to 7:00 p.m. please get here and we will work through the entire place start to finish so plan on being here a little later. Thanks!
A special thanks to all those who served.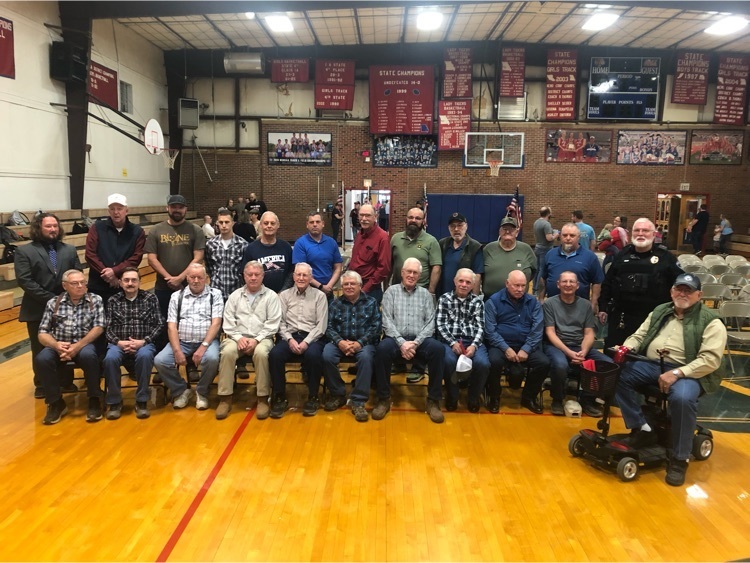 Play rehearsal: Mon., 3:10. Tue., 7 pm. Wed., 7 pm. Thur., 3:10-5:00! (Tuesday may change to 3:10...we will discuss tomorrow.) Thanks for running lines this weekend!
Veterans Day Assembly will be November 8, at 10:30 in the gym. Hope to see you there.

Play rehearsals: Wed., Nov. 3 @ 3:10 pm, & Thurs., Nov. 4 @ 7:00 pm. Thank you for memorizing! We'll use all costumes and props.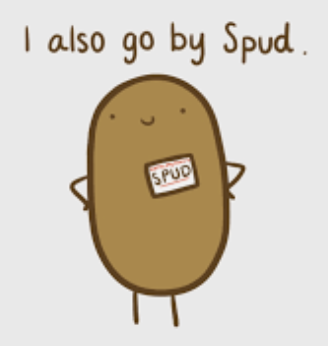 Only 7 rehearsals remain. I need everyone in place these next 2 weeks. Tue. Nov. 2 @ 7 pm. Wed. Nov. 3 @ 3:10 pm, and Thur. Nov. 4 @ 7 pm. Thanks! Memorize, memorize, memorize!


There is not another October board meeting. The next meeting of the Rich Hill school board will be November 10 at 6:30pm in the library.

Play rehearsal Monday 7:00 p.m., Tuesday 7:00 p.m., and Wednesday 3:05 p.m. Please have your part memorized!!

Red Ribbon Week grades 6-12! Monday, Color Me Drug Free, wear bright colors/tie dye. Tuesday, PJ day. Wednesday, Twin day. Thursday, school colors or Halloween 🎃.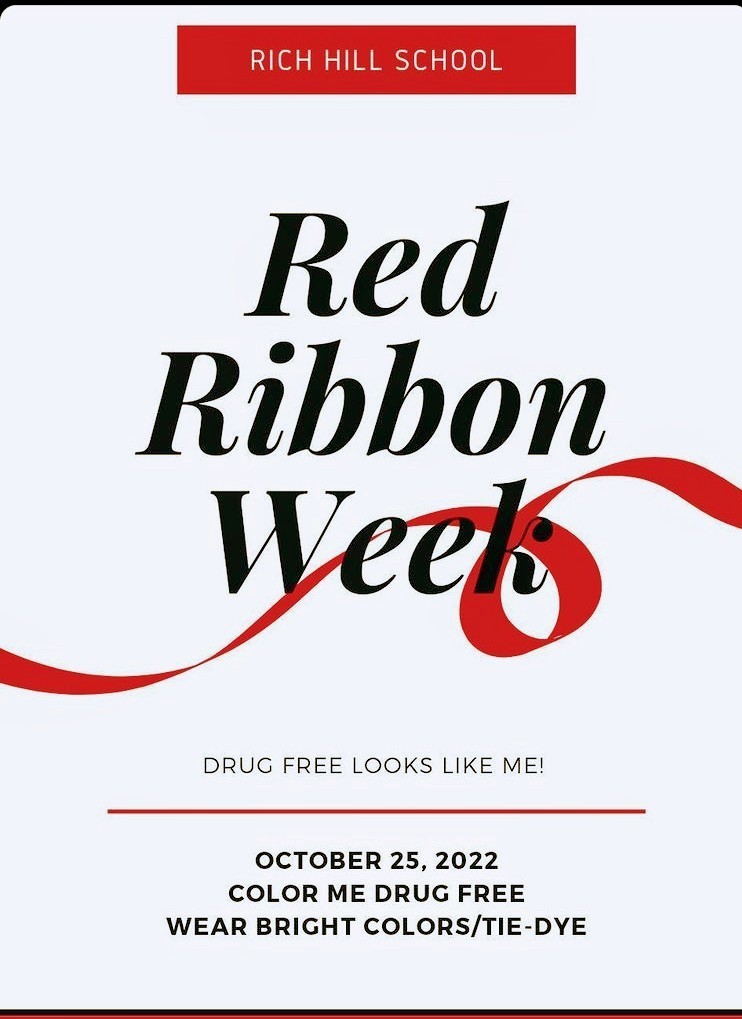 Updated Fall Play Cast List as of Oct 13, 2021.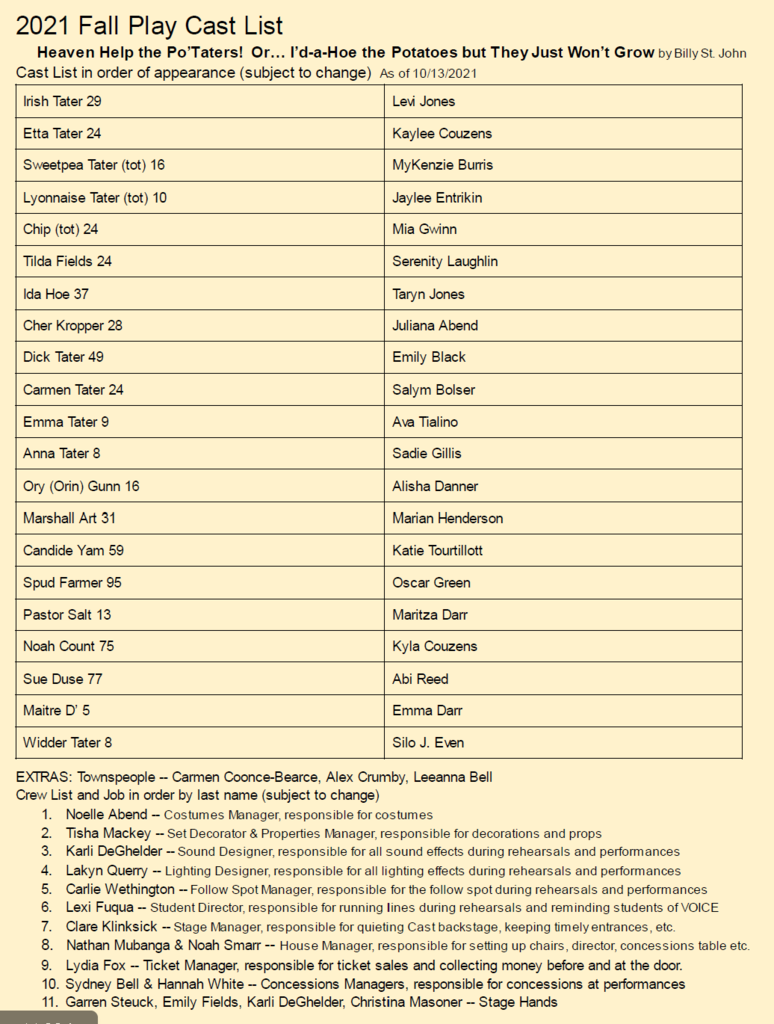 There is some confusion about October 19th. This is the last day of the quarter and it is a full day of school. The calendar indicated that it was both a full day and a half day. Sorry for the confusion. October 19th is a full day of school.

Here is the cast list as of Oct. 11. Rehearsal begins tonight at 7:00 pm. We will block several scenes (tell people where to enter, exit, stand, move to.) Thanks!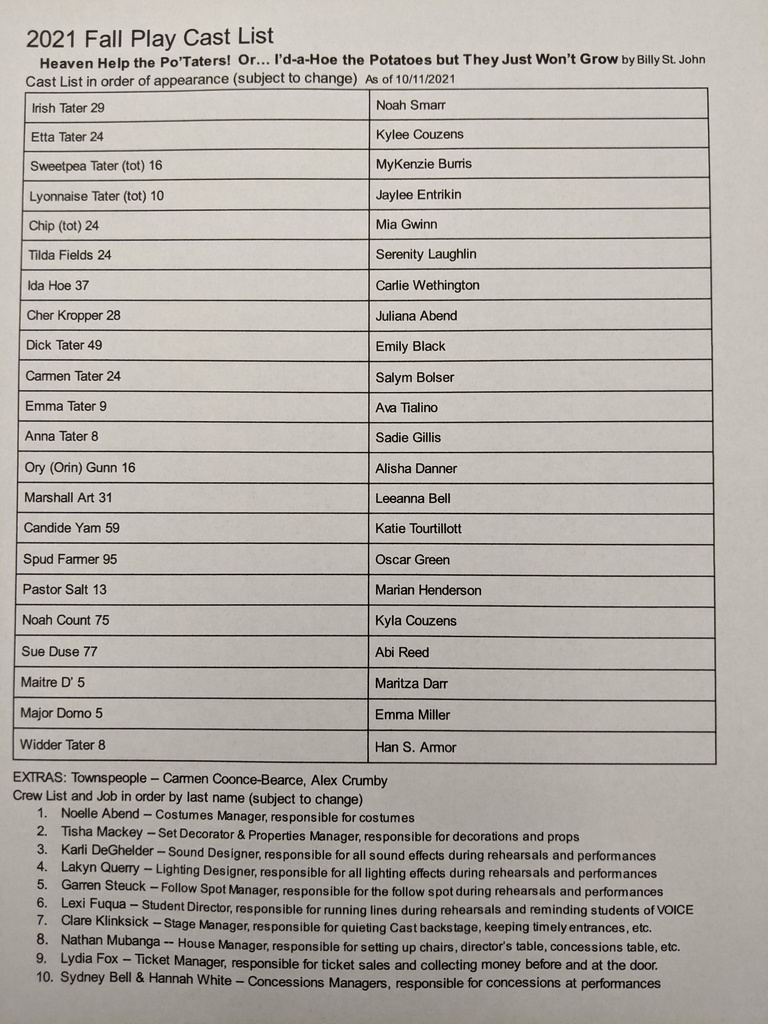 Play rehearsal begins this week! See the attached schedule. I will post the official Cast and hang it on the auditorium doors on Monday, Oct. 11.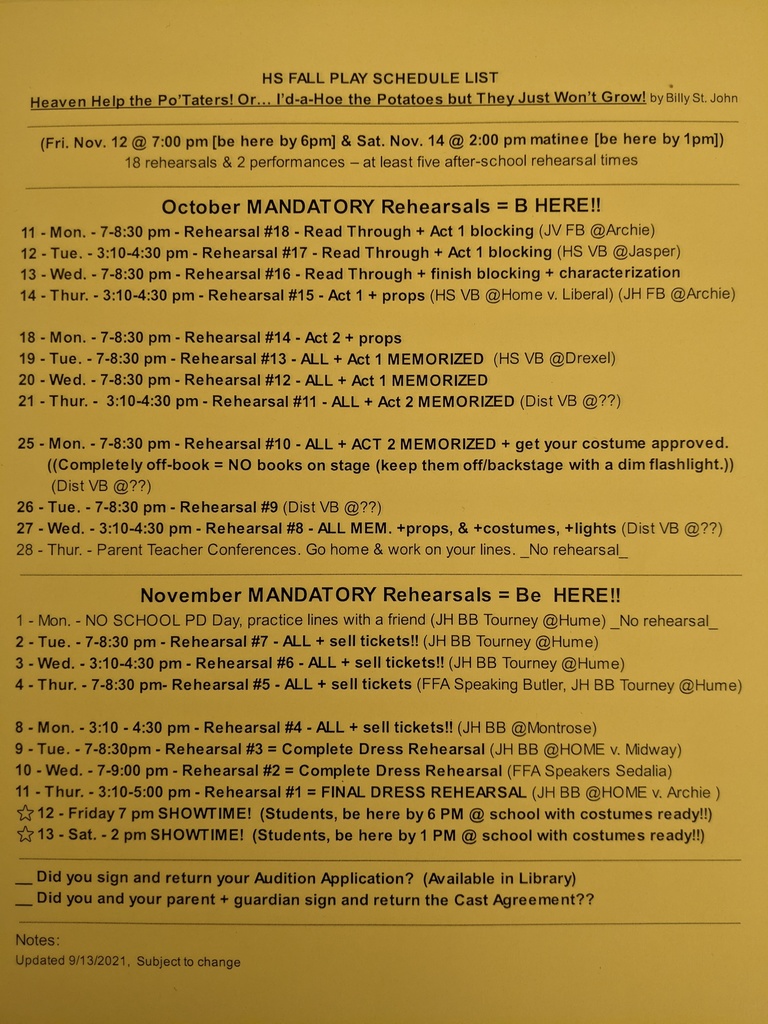 The Power School Parent login letter that went home had a typo in it. So, we will re-do, re-print and send those out soon. The good news is that all classes are in Canvas, too. So, parents can continue to use Canvas and monitor all grades. Thank you for your understanding.