Red Ribbon Week grades 6-12! Monday, Color Me Drug Free, wear bright colors/tie dye. Tuesday, PJ day. Wednesday, Twin day. Thursday, school colors or Halloween 🎃.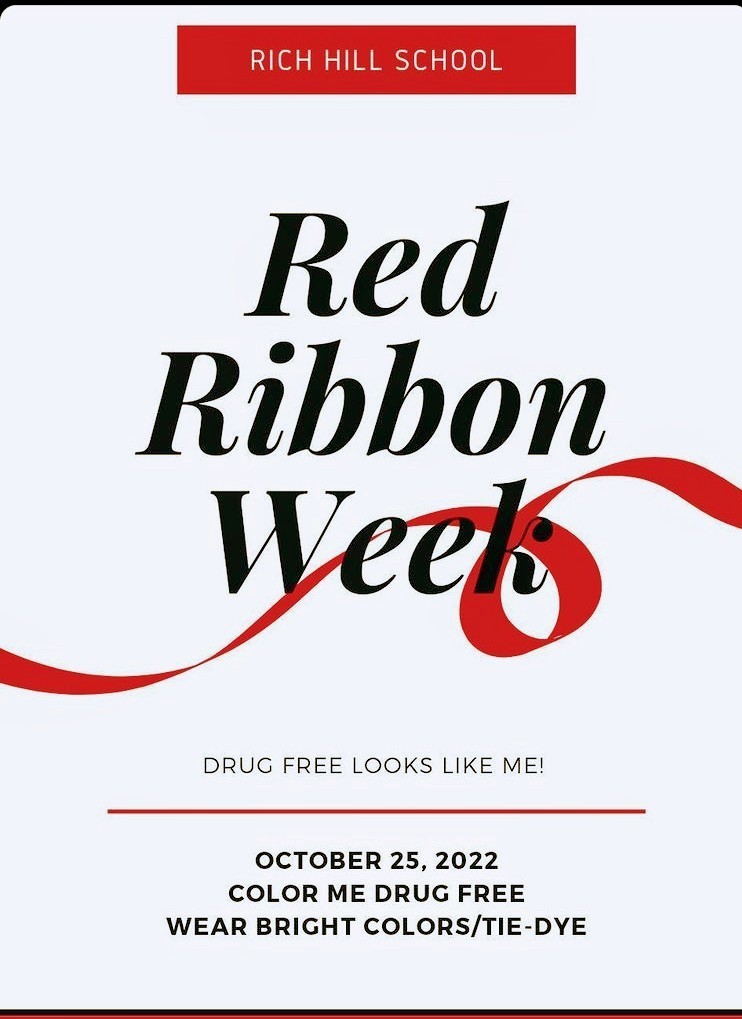 Updated Fall Play Cast List as of Oct 13, 2021.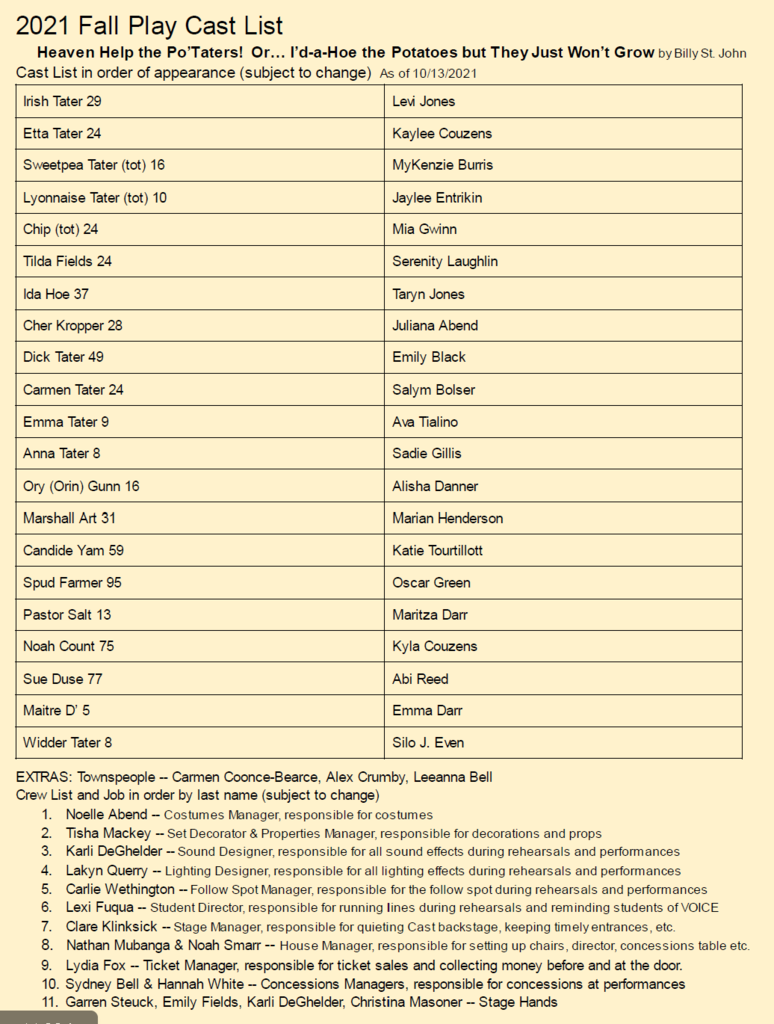 There is some confusion about October 19th. This is the last day of the quarter and it is a full day of school. The calendar indicated that it was both a full day and a half day. Sorry for the confusion. October 19th is a full day of school.

Here is the cast list as of Oct. 11. Rehearsal begins tonight at 7:00 pm. We will block several scenes (tell people where to enter, exit, stand, move to.) Thanks!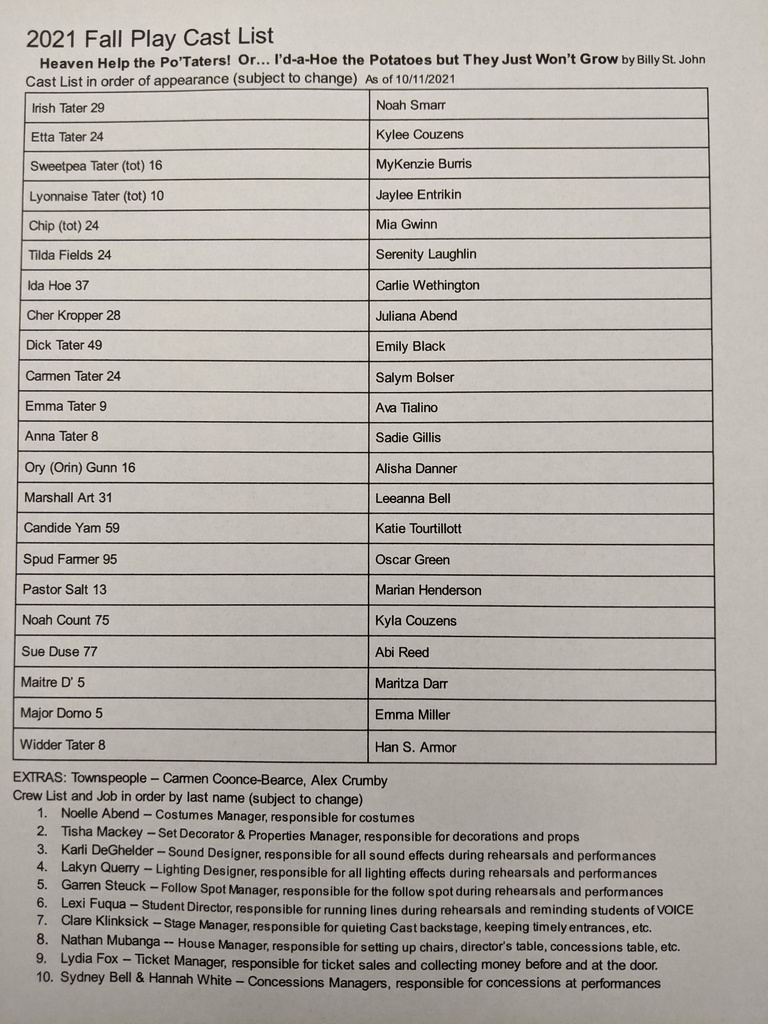 Play rehearsal begins this week! See the attached schedule. I will post the official Cast and hang it on the auditorium doors on Monday, Oct. 11.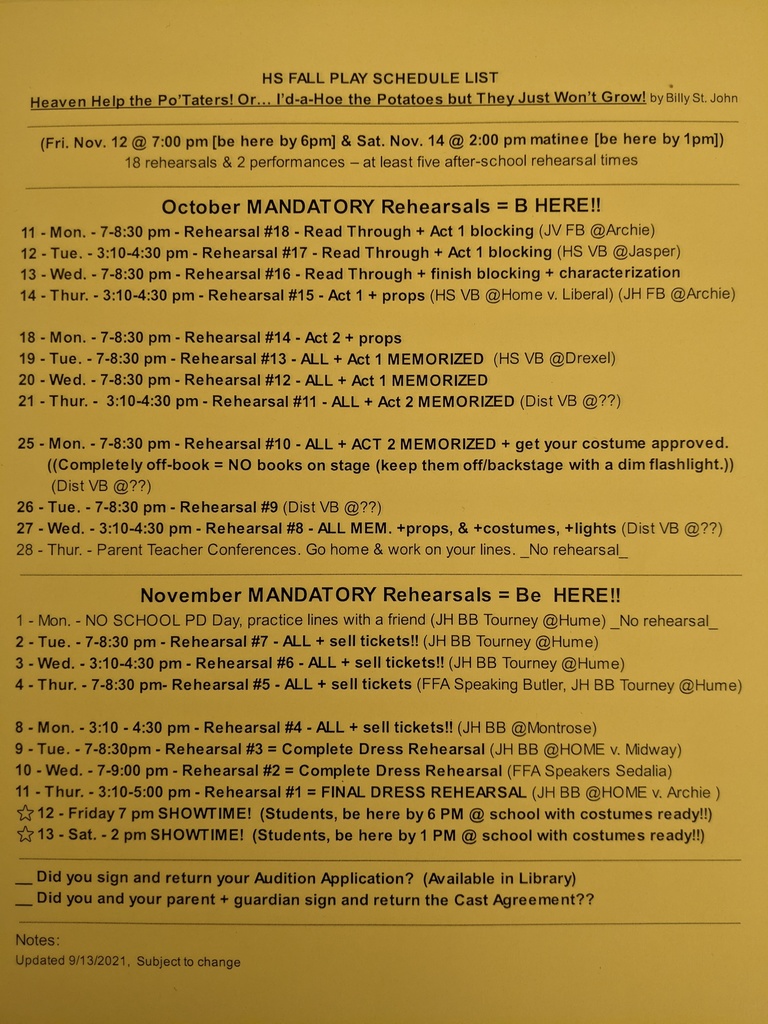 The Power School Parent login letter that went home had a typo in it. So, we will re-do, re-print and send those out soon. The good news is that all classes are in Canvas, too. So, parents can continue to use Canvas and monitor all grades. Thank you for your understanding.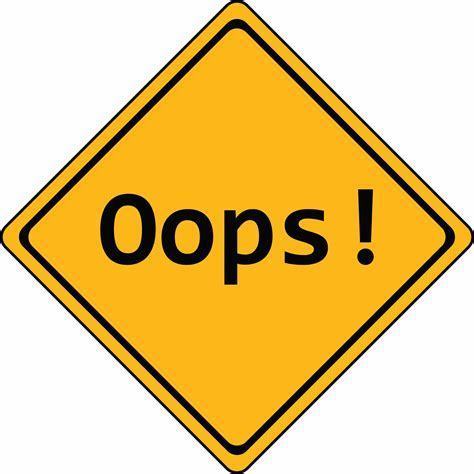 Tigers on the move!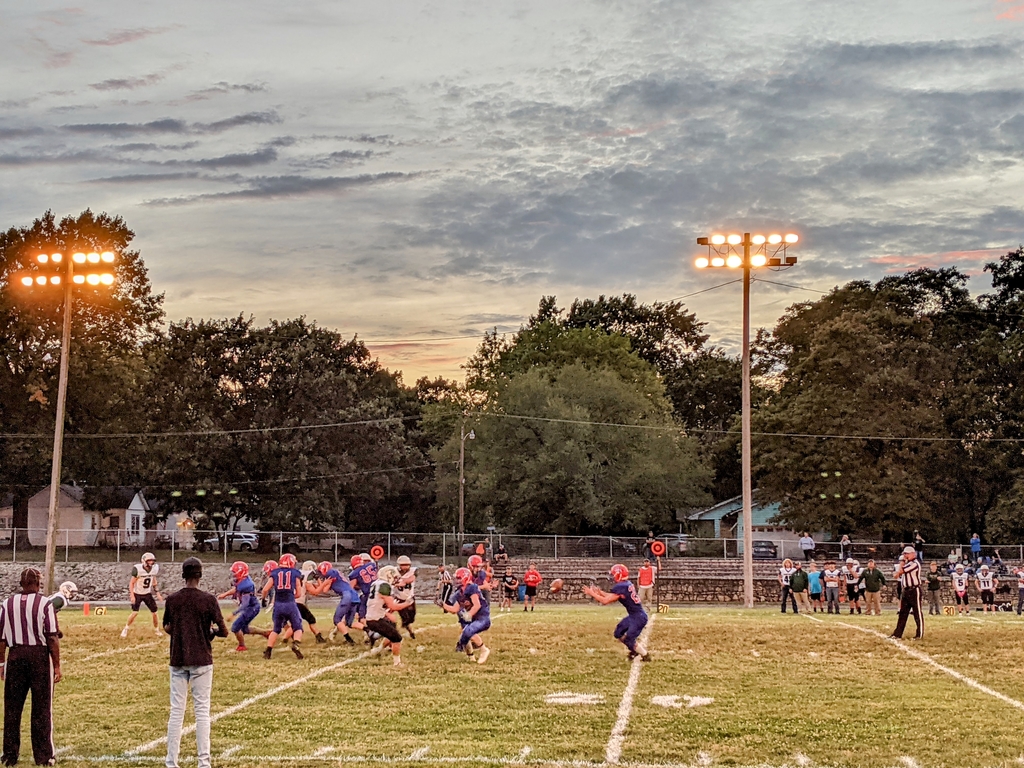 FCCLA has decided to "Trick or Treat" the Rich Hill community on the evening of OCT 13 from 5-6p. Members will be collecting non-perishable food items to donate to the food pantry at the Methodist Church in town. Please remember to leave your light on if you would like them to stop by your home on October 13th! You can email
tcox@richhill.k12.mo.us
to ensure someone stops by if you would like.

School Menu: Due to supply chain issues we have not been receiving all of the products we've ordered. Menus will be subject to change daily as our supplier substitutes other products for those we've ordered. Commodity foods that make up a large part of what we cook may be on back order until October of 2022 at this point in time. Thank you for your patience as we do our best to feed kids two hot meals a day!



Join us for our Book Fair this week! Help us add new books for all students!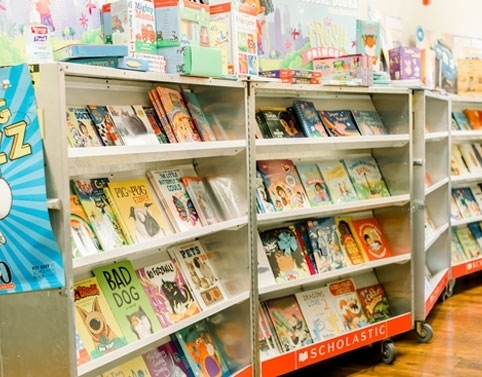 High School Band performs in Stockton parade!

Rich Hill is still holding classes for today. Water will be out through tonight for the entire town. Students are using the restrooms although toilets will not flush. The kitchen had already prepared lunch and we are using paper products. Hand cleansing wipes are provided prior to the student taking their lunch. Crews are estimating the water will be back on by morning. Please ensure your student brings a filled water bottle to school tomorrow since the city will probably issue a boil order.
Reminder: Junior Class prom fundraiser is going on now. September 10 is the last day for orders. Get your orders in soon.

Come on out tonight and meet the fall players at the football field at 7pm. Boosters will be auctioning off parking spots along the track. Tomorrow night's varsity football jamboree has been moved to Clinton due to a problem with Appleton City's field. The jamboree starts at 6:30pm. And last, but not least, the first day of school is Monday! The doors open at 7:35 for students with classes beginning at 8am and dismissal at 3:05pm. Elementary dismissal procedures are the same as last year. We are beginning the year in Phase Yellow. Our return to school plan is posted on our website.


The board has filled the football coaching staff positions. The coaches will hold a Junior High Football camp on Monday and Tuesday from 6pm to 8pm.

Elementary Classroom Lists will be posted on the Elementary Doors by Tuesday Morning. Teachers for each grade are: K-Mrs. Rapp&Mrs. Heiman 1st-Mrs. Steuck 2nd-Mrs. Gayman&Mrs. (Taylor)Cumpton 3rd-Mrs. Hancock&Ms. Diehl 4th-Mrs. (Buesing)Erickson&Mrs. Ogburn 5th-Mrs. Collins

Weightlifting is still going on in the evening. Athletes can enter on the south side of the New Gym and step over the floor to the stairs. We are optimistic that the floors will be cured by Monday night, so we are planning to hold JH Boys and Girls Basketball camp on July 12-13 5:15-645 pm and July 21-22 5:15-645 pm in the Dome.