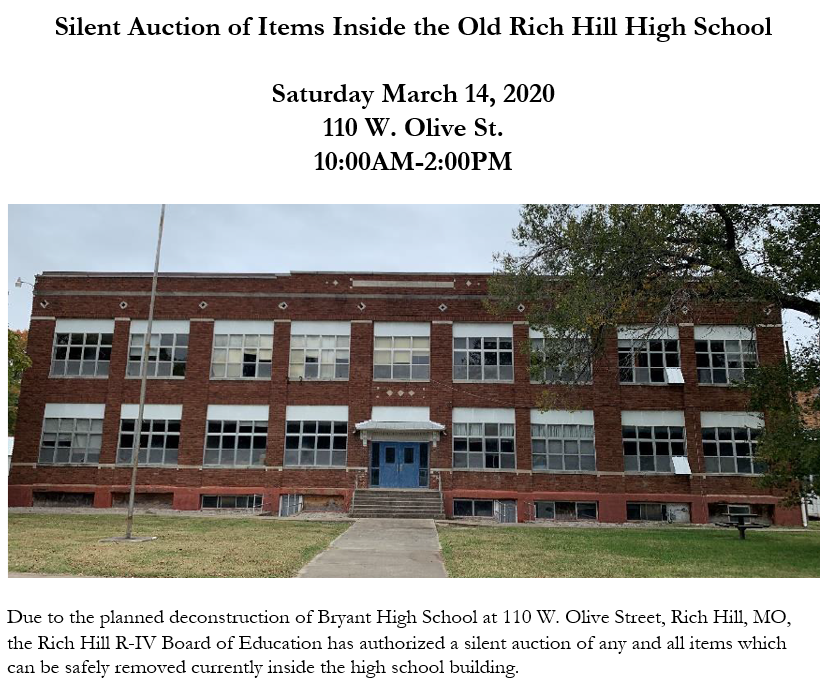 Old High School Silent Auction
Heath Oates
Friday, February 21, 2020
Due to the planned deconstruction of Bryant High School at 110 W. Olive Street, Rich Hill, MO, the Rich Hill R-IV Board of Education has authorized a silent auction of any and all items which can be safely removed currently inside the high school building.
Auctionable items are limited to those items which are unattached to the structure or can be easily and safely removed. Rich Hill R-IV Administration and Board of Education will have the final determination of which items can be auctioned.
DISCLAIMER: The Rich Hill R-IV Board of Education makes no warranty, either expressed or implied, regarding the usability, safety, quality, or condition of any items in the auction. All items are sold "as-is." Users and bidders enter the building at their own risk. The Rich Hill R-IV School District, the Board of Education, and its employees are not responsible for any accidents. No one under the age of eighteen will be allowed to enter the building. All sales final. Cash/check due at the conclusion of the auction. Winning bidders have until Saturday March 21 to remove all items.