The JH games against Liberal have been rescheduled for Wednesday, 12/18. Games will begin at 5:30 with two quarters of Boys B, then Boys A, and the night will finish with Girls A.

The JH basketball teams will finish the season on Tuesday, 12/17, at home against Liberal. Due to a scheduling conflict, the boys will play first, followed by the girls.


All WEMO Tournament games scheduled for Monday have been postponed until Tuesday. Tuesday's games will still be played, but times may change. An updated bracket will be posted when it becomes available.

The JH basketball teams ended the WEMO tournament with 2nd place finishes! Congratulations on a great tournament, Tigers!!

Both JH teams finish the night with wins and advance to the championship games tomorrow! The girls will tip off at 7:00 with the boys following at 8:15. Lets go Tigers!!!

This week in athletics: 12/9 HS @ Hume at 5:30, V girls & Varsity Boys 12/13 HS Boys @ Lockwood at 6:00, 2Q JV, then V 12/14 HS Girls @ Archie for WEMO Tournament at 5:30 vs. AC The JH WEMO Tournament is this week at home. RH girls play on 12/10 at 4:30, boys to follow.


This week in athletics: 12/3 JH Basketball @ Osceola at 5:30 12/5 HS Basketball @ Lone Jack at 5:00. 2Q JV Girls, 2Q JV Boys, V Girls, V Boys. 12/5 JH Basketball vs. Lakeland at 5:30

Basketball information for 11/26 JH @ Drexel: The girls will start at 5:30 in the north gym while boys B is being played in the south gym. Boys A will be in the north gym after the girls. HS vs. College Heights: 5:00 start with 2Q JV girls, 2Q JV boys, V girls, V boys.

The Tiger Pride Booster Club is selling raffle tickets for a chance to win a family pass for all home games (no tournaments). The cost is 1 ticket for $1 or 6 for $5. The package includes two adult passes and a pass for each child in the family. The winner will be announced at halftime of the V Boys game on Tuesday, 11/26 against College Heights.

Join us at 6:30 this evening as we recognize the accomplishments of our high school football and volleyball players at the fall sports reception.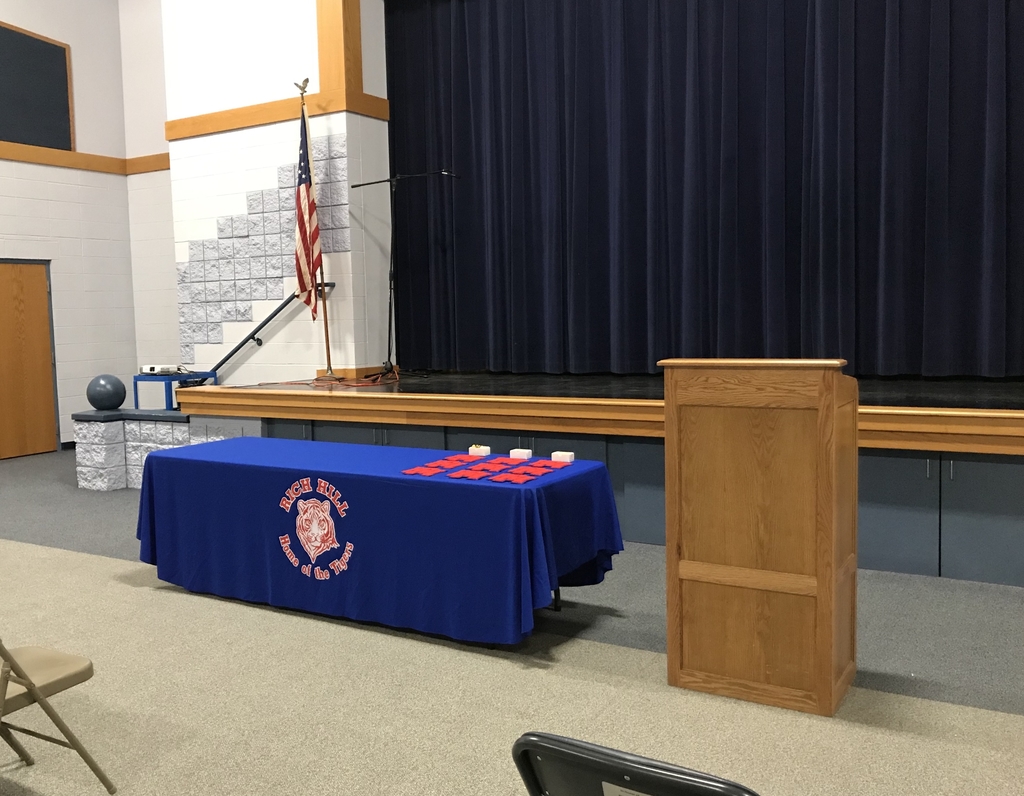 Athletic updates for next week: 11/18 JH Girls BB @ Miami at 5:30. Miami does not have a boys team this year. 11/19 HS BB Jamboree @ RH starting at 5:00 11/20 Fall Sports Reception for HS student athletes

JH basketball at Montrose this evening has been cancelled due to poor road conditions near Montrose. Information about rescheduling will be announced once it is finalized.

The Tigers fell to the Bulldogs 60-38 in a hard hitting contest. Congratulations on a fantastic season, boys!


JH Basketball is wrapping up the Hume Tournament at the end of this week. The boys will play in the 3rd place contest at 7:30 pm on Friday, 11/8. The girls advanced to the championship game and will play at 10:00 am on 11/9. Get out and support our Tiger teams!

The Tigers are ready to take on the Bulldogs this Friday night at Appleton City in district semifinal action! Kickoff will be at 7:00 pm. Admission is $5 for attendees age 6 & over. Let's Go Tigers!

The Lady Tigers battled, but fell to Sacred Heart in two sets. Congratulations on your accomplishments this season, ladies!

It's game day for the Lady Tigers! Come support our team in Class 1 Sectional 3 action at home starting at 3:00!