COUNSELOR'S CORNER
MRS. BRITTANY NIEDER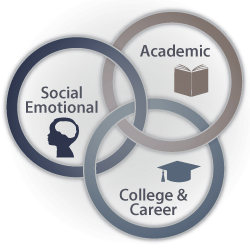 *Explore college websites
*Visit a college campus
*Apply for college admission
*FAFSA opens on October 1st
20-21 Test Dates Dec 12 Feb 6 Apr 10 Jun 12 Jul 17
Registr. Deadline Jan 8 March 5 May 7 Jun 11
TEST FEES $55.00 WITH WRITING $70.00
*IF YOU CANNOT AFFORD THE TEST FEE, ASK YOUR COUNSELOR ABOUT REQUESTING A FEE WAIVER
General information pertaining to the FAFSA:
Create an Account (FSA ID)
Whether you're a student, parent, or borrower, you'll need to create your own account to complete federal student aid tasks.
You will need to create this account to use for the following:
Filling out the Free Application for Federal Student Aid (FAFSA®) form

Signing your Master Promissory Note (MPN)

Applying for repayment plans

Completing loan counseling

Using the Public Service Loan Forgiveness Help Tool

Items Needed to Create an Account

Social Security Number

Your own mobile phone number and/or email address
Starting Your FAFSA® Form and Providing Your Basic Personal Information
The FAFSA form is available on Oct. 1 for the next school year. We encourage you to fill out this form as soon as possible on or after Oct. 1 to meet FAFSA deadlines.
FAFSA® Filing Options
You may choose any of these methods to file a FAFSA form:
1. Log in at fafsa.gov to apply online or

2. Fill out the form in the myStudentAid mobile app, available on the App Store (iOS) or Google Play (Android) or

3.Complete a 2020-21 FAFSA PDF (note: you must print out and mail the FAFSA PDF for processing) or request a print-out of the FAFSA PDF by calling us at 1-800-4-FED-AID (1-800-433-3243) or 334-523-2691 (TTY for the deaf or hard of hearing 1-800-730-8913); then fill out the form and mail it for processing
Gathering the Documents Needed to Apply
The FAFSA questions ask for information about you (your name, date of birth, address, etc.) and about your financial situation. Depending on your circumstances (for instance, whether you're a U.S. citizen or what tax form you used), you might need the following information or documents as you fill out the application:
Your Social Security number (it's important that you enter it correctly on the FAFSA form!)

Your parents' Social Security numbers if you are a dependent student

Your driver's license number if you have one

Your Alien Registration number if you are not a U.S. citizen
Federal tax information or tax returns including IRS W-2 information, for you (and your spouse, if you are married), and for your parents if you are a dependent student:
IRS 1040

Foreign tax return, IRS 1040NR, or IRS 1040NR-EZ

Tax return for Puerto Rico, Guam, American Samoa, the U.S. Virgin Islands, the Marshall Islands, the Federated States of Micronesia, or Palau

Records of your untaxed income, such as child support received, interest income, and veterans noneducation benefits, for you, and for your parents if you are a dependent student

Information on cash; savings and checking account balances; investments, including stocks and bonds and real estate (but not including the home in which you live); and business and farm assets for you, and for your parents if you are a dependent student

If you're a male between the ages of 18 and 25 and you haven't registered with the Selective Service System, select "Yes" when you're asked if you would like to be registered. Otherwise, you won't be eligible to receive federal student aid. This requirement applies to any person assigned the sex of male at birth.
Social Security Numbers for student and parent(s)

2019 Tax Return for student and parent(s) if 2019 taxes were filed

2019 W2 forms for student and parent(s) if received

Access to email and email passwords in order to create an FSA ID for student and parent which will be used to electronically sign the FAFSA
Other Important Information
http://www.act.org/content/act/en/products-and-services/the-act/registration.html
ACT Test Options and Prices - 2020-2021
The full ACT (no writing) $55.00 Includes reports for you, your high school, and up to four colleges (if codes are provided when you register).
The full ACT with writing $70.00 Includes reports for you, your high school, and up to four colleges (if codes are provided when you register). More about the ACT with writing
Test option change $15.00. The writing test fee is refundable on written request if you are absent on test day or switch to ACT (no writing) before testing begins.
Fee waivers cover only the basic registration fee and late fee for your test option on a national test date, including up to four college choices (if you provide valid codes when you register). After registration, the student can request any number of additional score reports for free. Provides free access to The Official ACT® Self-Paced Course, Powered by Kaplan®. Waivers do not cover test date or test center changes, stand by fee, or any other services.
You cannot request a fee waiver directly from ACT; you must contact your high school counselor. If you receive an ACT Fee Waiver Form, follow the "How to Apply this Fee Waiver" on it for your registration method (or if requesting Special Testing).
When you register online and request any additional services, you must enter a credit card to pay those fees before submitting your registration.
Additional Fees
Add to your test fee (except for Test Center Change).
Late registration $35.00 . Registration or test date change made during the late period for a national test date.
Standby testing $56.00 Refunded if you are denied admission to the test center on test day or registration was cancelled due to no photo provided. More about standby testing
Change Fee $35.00. Includes making a Test Date Change or Test Center Change. How can I make changes to my registration?
Score reports to 5th and 6th college choices $13.00. Request online before the test date. Refundable on written request if you do not test.
Additional Services
Additional Score Reports $13.00. You can request additional score reports online or by providing an additional score report form.
https://studentaid.gov/h/apply-for-aid/fafsa
The correct website is FAFSA.ed.gov. Note that website address ends in . gov, not .com or another top level domain. The government's FAFSA site is free — there is no charge for filing the FAFSA.
When you are going to college, you should apply for the FAFSA every year. Beyond eligibility for scholarships and grants, the FAFSA is also what you need to get student loans.
You should apply for the FAFSA as early as possible. It's relatively easy to do online, and will take about 20-30 minutes of your time. The bottom line is, don't miss the deadline, and apply early.
Attention! The new 2021–22 FAFSA form is  almost here!  To upload this latest version, fafsa.gov will be unavailable on  Sunday, Sept. 13 from 1 a.m. through 2:30 p.m. Eastern time (ET) and Wednesday, Sept. 30 from 9 p.m. through 1 a.m. ET on Oct. 1.
The opposite is also true: The sooner you apply for aid, the better your chances of maximizing the amount you'll receive.
Each Year the FAFSA opens on October 1, and has a deadline of June 30 the year you need aid. This almost gives you a two year window to apply for financial aid. Remember, financial aid also includes Federal student loans! Find the best student loan rates here.
Below is a link to a table to help you navigate federal aid deadlines by state. It links to the fafsa.ed.gov website.
These deadlines are relevant to 2020–2021 FAFSA applications. You'll notice some dates have passed.
If a lot of the deadlines for you have passed, the 2021–2022 FAFSA may be a better option. You'll be able to apply early. Deadlines will be similar but instead of 2020, you'll focus on 2021.
Always contact your school of interest to verify any deadline.
The Federal FAFSA deadline is June 30 in the year you are applying for. You can start applying for the FAFSA as early as October 1 the year before. It is extremely important that you file the FAFSA every year.
Academic Year Open Date Deadline
2020 – 2021 October 1, 2019 June 30, 2021
2021 – 2022 October 1, 2020 June 30, 2022
2022 – 2023 October 1, 2021 June 30, 2023
https://www.payingforcollegeresource.com/?dtd_cell=SMSCMPSCSOSOOTOTOTHOTHRN010006
Sallie Mae's free Paying for College Resource is a great tool you can share with students and families as they navigate planning and paying for college. Please contact School Assist at SchoolAssist@SallieMae.com or 844-827-7478 if you have any questions.
Borrow responsibly
We encourage students and families to start with savings, grants, scholarships, and federal student loans to pay for college. Students and families should evaluate all anticipated monthly loan payments, and how much the student expects to earn in the future, before considering a private student loan